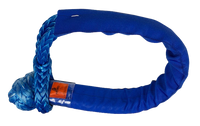 Note: Link-It Plus are rated at 5:1 SWLL. Actual breaking strength is 5x listed size.
Link-It Plus is a button-knot soft shackle made from Samson's AmSteel-Blue, providing an easy to use, lightweight connection method. Replacing steel shackle or other connection types, Link-It Plus will not corrode or rust, and has short connection lengths. For industrial users, Link-It Plus comes with full chafe protection and an attached tag with rating information.
Click here for full Link-It Plus Spec Sheet.
Click here for Link-It Plus Use Instructions.
Please note Working Load Limits are rated at 5:1 safety factor.
Please call 608-387-0960 to check availability on any out-of-stock sizes.