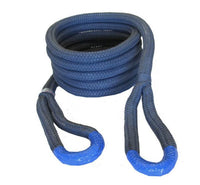 Slingshot Ropes will stretch up to 30%, ultimately transferring the energy from your pulling vehicle to the stuck one without the hard jolts that chains and cables cause. When the Slingshot stretches and the pulling vehicle holds the brakes, a constant pressure is applied allowing the energy to transfer and break the suctions of the mud. With this efficient technique, less energy is needed to move stuck equipment and in some cases up to half, meaning less force, wear, and tear on your equipment and personnel!
They are constructed from double braid nylon and are coated with a military grade polymer, giving you superior strength that is waterproof, UV and even abrasive resistant unlike standard uncoated (white) ropes.
With sizes ranging from 3/4" (19,000lbs) to 2-1/2" (201,000lbs), we are sure to have a solution for your equipment and needs.